---
PROMILL-2513-ATC-M 8x4
---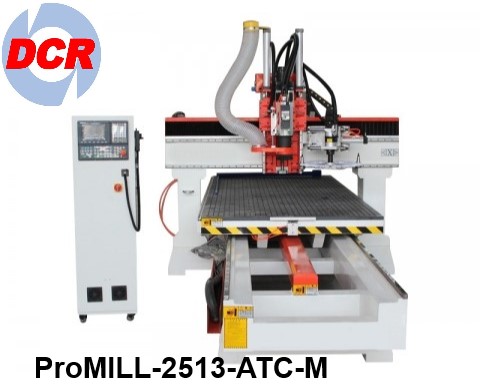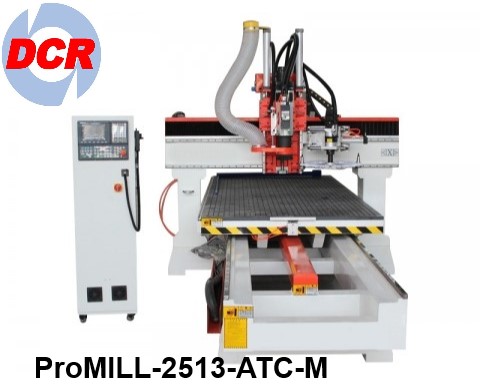 The ProMILL Series is specialised for cutting, routing & milling hard materials such as wood, stone, aluminium, plastics (all kinds), metals (all kinds), di-bond, composites etc. with a thickness up to 200mm (MACHINE MAY VARY). If you are unsure whether your material will cut on this machine, you can send us a sample and we will test it for you. Our details are at the bottom of the page in the GET IN TOUCH section.
The ProMILL-2513 ATC-M 8x4 has a 2500x1300mm MOVING TABLE working area with ATC- AUTOMATIC TOOL CHANGING for quick and reliable hands-free tool changing, saving you time and effort.
All of our machines come with a powerful T-slot table vacuum system, making sure that your work stays exactly where it is whilst it's being cut, routed, carved or engraved.
An extraction system comes as standard with all machines to give you a mess free environment.
The ProMILL cutting software is easy to use and compatible with any CAD software that can export DXF, PLT files etc. We do include a CAD program in the package but you may prefer to use another CAD program that you have previous knowledge of.

When the design is drawn and uploaded into the ProMILL software, you can then set the cutting depth and starting point easily on the user-friendly control box. You are now able to run it and leave the machine to cut/route out all the shapes/items. Then when the machine has finished working, simply turn off the vacuum system and pick up all the cut out items.
Optional Extras For ProMILL Machines-
- Option to upgrade spindle (up to 9kW on certain models)
- Pinch and grab robotics
- Upgraded vacuum system
- Custom table size
- Multiple spindles
- ATC- Automatic tool changing
- CCD Camera
- Bigger clearance under the head for thicker materials
All of our brand new machinery comes with a full 12 month warranty as well as continuous support afterwards. As part of your purchase, you will receive 2 days extensive training and the full software package. Also included is full 24/7 technical backup on hardware and software, and we have huge stock of tooling which is available for purchase upon request.
We can install UK & Worldwide (at cost)
FINANCE AVAILABLE ON ALL MACHINES

Contact Darren- 07801631245 OR darren@dcrmachines.co.uk
Contact Perry- 07892722630 OR perry@dcrmachines.co.uk
Product Details:
Product Details:
Experts in Refurbished Machinery

Established
1989

Nationwide Installation Service